Books in the Widow Walk Saga
Widow Walk
2015 New York Book Festival

 Runner-Up
2015 San Francisco Book Festival Winner
IndieReader Discovery Award Winner
International Book Award Winner
WIDOW WALK is based on the real events surrounding the revenge murder of Isaac Ebey, a prominent citizen who lived on Whidbey Island in the mid-1800s.
Author Gar LaSalle combines his love of history with a compelling story of a woman's determination to find her kidnapped son. The novel vividly depicts those turbulent times, when the United States and Britain both attempted to control vast, fertile new lands in the Pacific Northwest and contain its native "aboriginal" populations.
In Widow Walk, brave people fight to survive predation and the violent confrontations that inevitably accompany ambition and expansionism. This is a story of courage, character, and the emergence of those who endured.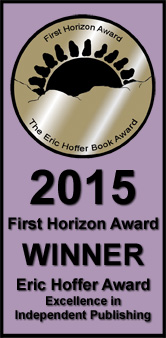 Available on Amazon and Barnes and Noble. Also in audiobook. 
NEW! Now available in dual English/Italian version!
View a sample chapter / Get the full dual language version.
1858. The bountiful Pacific Northwest.

Breathtaking beauty, vast opportunities, pervasive danger, lonely pursuits.

Enterprising homesteaders and native Americans struggle to find order amidst a deadly clash of cultures.

They are fighting for survival and for what they believe is theirs alone.

Here is where Isaac and Emmy Evers live, love, and fight for survival.
MORE ABOUT WIDOW WALK
The Widow Walk totem is characteristic of the style of mid-nineteenth century classical Haida argellite carvings. Designed by the author Gar LaSalle and graphic artist Randy Mott, the animals depicted — the raven, eagle, hawk-dove, beaver and wolverine — symbolize the spirits of the main characters in the book.

---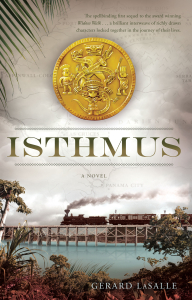 Isthmus
Book Two in the Widow Walk Saga
2015 Nancy Pearl Award Finalist
It is 1860 and revolution is erupting throughout the world over universal emancipation. Civil war looms in the Unites States. In the midst of it all, a young woman is moving back to Boston with what is left of her family, devastated and bankrupted by savage, tragic events that occurred less than a year ago in the Pacific Northwest. They traverse a hostile terrain on the new Panama isthmus railroad, the most modern transportation in the world. From inside their coach they watch the humid forest, a different type of green from what they knew up north, slipping fast past, a warm verdant blur. Looking down the aisle they see an uncomfortable array of fellow travelers, an international mix of characters whom they will get to know all too well . . . each with hidden hopes and dreams . . . predators and victims, desperadoes and hangmen, widows and widow makers. A convenient ride through the jungle. An inconvenient assault. A run for their lives.
Reader Reviews
One of the most engaging books I have read in a long time. This, second in the series, is colourful, balanced in its character psychology (and perspectives), and it is thoughtfully engaging. I highly recommend this book. I likewise suggest that – if you think that you may not appreciate a historical fiction – you give this one a try. I was pulled in from the start, and fully present in my own emotions, questions, and observations (of the characters).

More than just a historical work of fiction. This book is artfully crafted!
LaSalle's "Isthmus" is a compelling story. A gripping, lucid grassroots history of the Era that declines the strict use of great battles and big men as its fulcrum, opting instead for the people. An absorbing social history. In the tradition Gerald LaSalle has produced a book that is a work of both history and literature. A deep, rich, and complex analysis of the period surrounding the Isthmus of Panama, the gold rush, and the years before the American Civil War.
---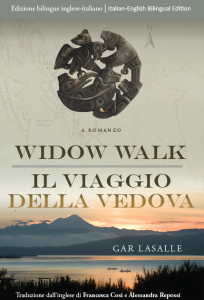 Widow Walk/ 
Il viaggio della vedova
>> Or buy the PDF version here!
Historical Fiction Widow Walk now offered with side-by-side Italian translation. You may read the English on one side, and read the Italian version on the other. Perfect for language learners!
Italian description: A metà dell'Ottocento il Nordovest Pacifico, un vasto territorio fatto di foreste impenetrabili e fiumi selvaggi, è punteggiato da piccoli insediamenti di coloni. Isaac Evers, guida della comunità ed ex combattente, ha fondato una piccola colonia a Whidbey Island. Altrove, l'indiano Anah-nawitka, della tribù degli Haida, prova il brivido del suo primo omicidio e sente scorrere nelle vene un desiderio di vendetta, che sazia tagliando la testa ai bianchi invasori. Esaltato dalla stima degli indiani del suo clan, Anah imbocca un sentiero di violenza che cambierà la vita di molte persone. Gar LaSalle intreccia queste trame dando vita a un romanzo vigoroso che narra un'indimenticabile avventura americana.